Beachside Glamour: Chic Beachwear for Hot Weekends in Dubai
Posted by ANONYMOUS BLOGGER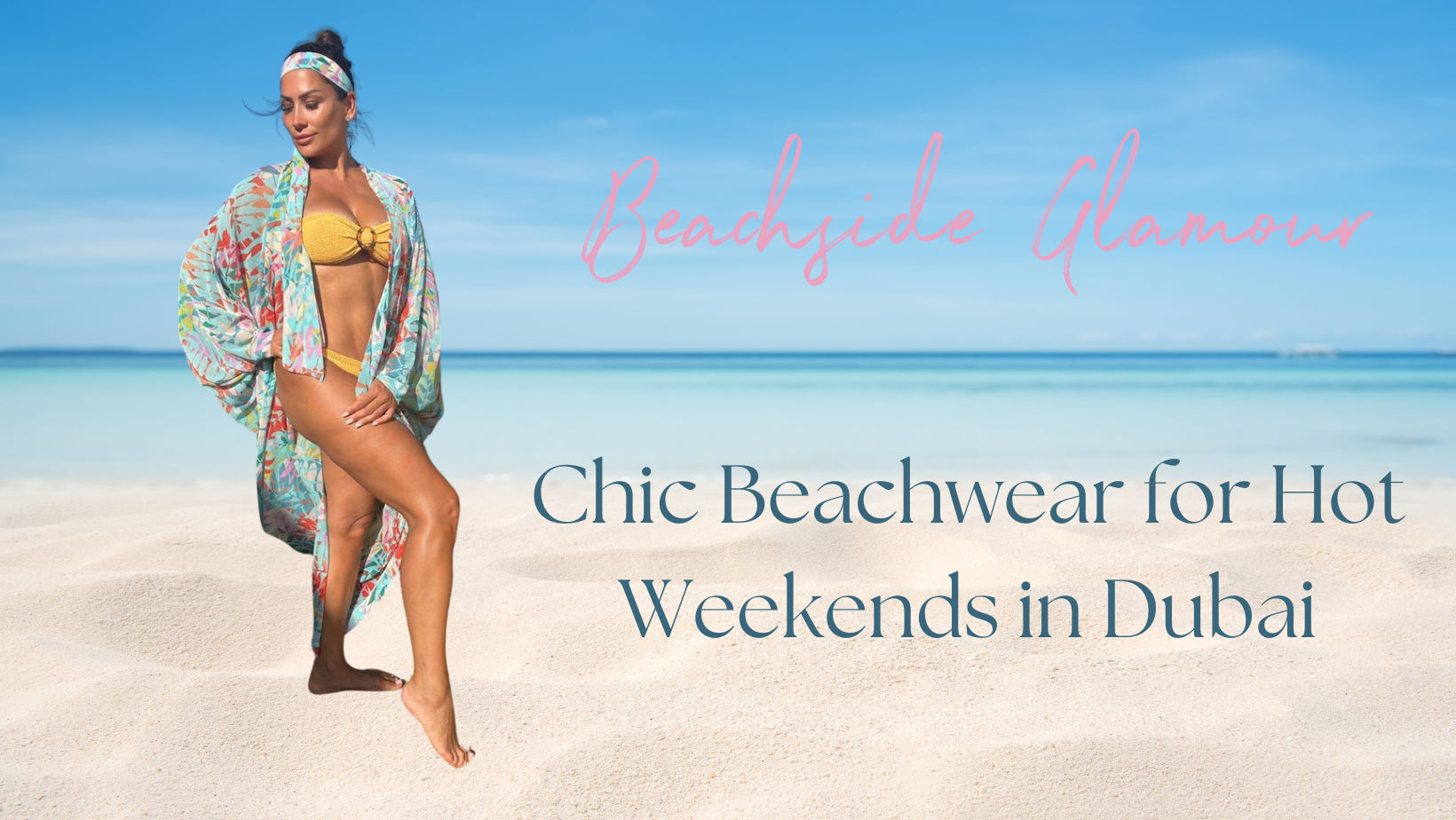 Dubai Beach days are the best days! 
The whole city has the coastline so your choice of beaches are not limited!
But how do you look fashionable on the Dubai Beaches!
As the weekend sun casts a golden glow on the coastline, fashion enthusiasts are drawn to the beach to display their impeccable sense of style.
In this edition of our fashion blog, we'll delve into the what to wear at the beach durong the scorching hot weekends that Dubai offers and how to embrace the latest beachwear trends while radiating effortless charm and elegance.
Saturday- Beachfront Brunch Vibes in Dubai

Dubai's weekends commence with a laid-back Saturday, setting the tone for a weekend of beachside bliss. The air is filled with anticipation as stylish individuals prepare for a quintessential Dubai experience – the beachfront brunch.
With opulent beachside venues offering delectable treats, it's the perfect opportunity to flaunt your chic beachwear.

Fashion Tips:
- Floral-Printed Kaftan Dress: Effortlessly transition from beach to brunch by wearing a floral-printed kimono dress. Its flowing silhouette captures the breeze, enhancing the elegance of your beach-inspired look This is a cute options for kids but you can also have matching Mummy & Me Beach Kaftans. 
- Loose Kaftans: Perfect as a cover up while having lunch on the beach

- Straw Hat: Top off your outfit with a fashionable straw hat that not only elevates your style but also provides much-needed shade under the Dubai sun.
- Tinted Sunglasses: Choose a pair of tinted sunglasses that not only shield your eyes but also add a touch of retro charm to your beachfront ensemble.

- Slide Sandals: Slip into comfortable slide sandals adorned with playful embellishments, making them the perfect choice for a stroll along the shoreline.
Sunday- Retail Therapy by the Sea in Dubai

Sundays are synonymous with leisurely Dubai beach visits and retail therapy. From luxury boutiques to beachside markets, it's a day of exploring and indulging your fashion senses. After a day of retail adventure, it's time to prepare for a sophisticated evening by the sea.

Fashion Tips
- Flowy Beach Cover-up Dress: After a day of beach escapades, slip into a flowy beach cover-up dress that exudes relaxation and elegance.

- Seashell Accessories: Embrace the beach theme with delicate seashell necklaces and bracelets, adding a touch of whimsy to your ensemble.

- Chic Tote Bag: Opt for a stylish tote bag that accommodates your beach essentials while seamlessly complementing your outfit.

- Wedge Sandals: Elevate your beach chic look with comfortable wedge sandals, adding height without compromising on comfort.



Enjoy Dubai's hot weekends with beachside glamour, where you can showcase your gorgeous beachwear against the backdrop of the azure sea.
From beachfront brunches to retail therapy by the shoreline and sunset soirees, Dubai offers an array of beach fashion opportunities.
So, whether you're indulging in retail therapy or savoring the serenity of the coastline, remember to let your beach fashion shine as brightly as Dubai's breathtaking sunsets.
Collection 2019
Sale 70% Off
Third slide