Sizzling Style:How to dress for the Hot Weekends in Dubai
Posted by ANONYMOUS BLOGGER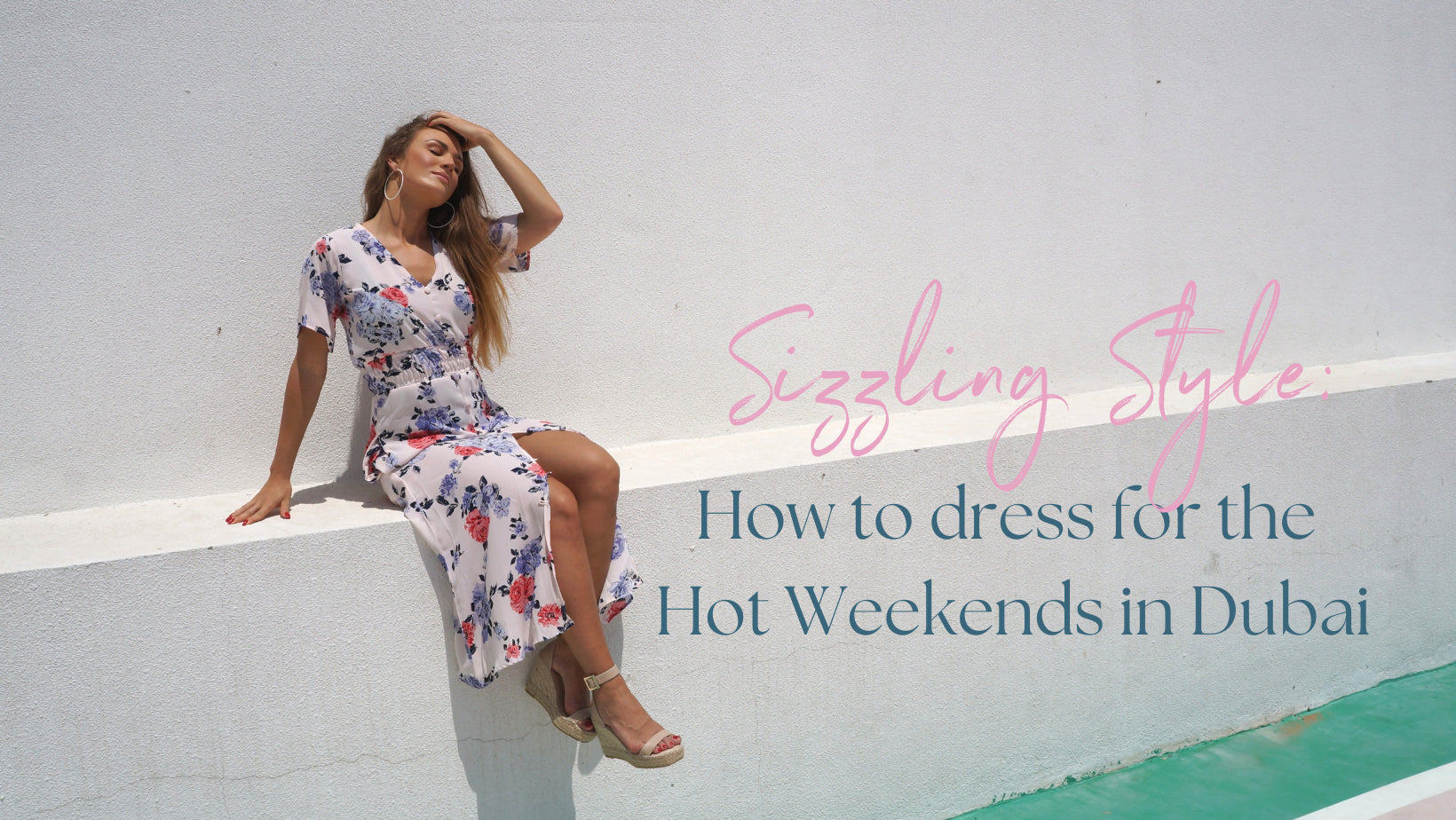 We know the Dubai weekends are HOT! And you are always on the look out for that new chic outfit that also won't make you too hot! so we have come up with some great tips on how to dress to beat the heat but still look and feel gorgeous!
As Dubai, is a city synonymous with luxury and opulence, is also a fashion-forward destination that sets trends ablaze.
As the weekend sun dips the skyline in golden hues, the fashion-conscious emerge to showcase their chic ensembles in the vibrant streets of Dubai.
In this edition of our fashion blog, we're diving into the scorching hot weekends that Dubai has to offer and how to rock the latest dress and beachwear trends while staying cool and stylish.

Saturday Brunch and Breeze

The Dubai weekend starts with Saturday.
 The air is filled with excitement as fashion enthusiasts prepare for the ultimate Dubai ritual - the Saturday (previously Friday)brunch. Set against the backdrop of lavish hotels and breathtaking views, these brunches are an opportunity to flaunt your stylish yet breezy outfits.


Fashion Tips:
- Light and Flowy Dress: Slip into a floral-print maxi dress in vibrant summer hues. The gentle breeze of Dubai's coastal air will make the dress come alive as you indulge in delectable brunch offerings. Why don't you give Our Maxi Dress a try in store?

- Wide-Brimmed Hat: Crown your outfit with a wide-brimmed hat. Not only does it exude sophistication, but it also protects you from the intense sun, allowing you to enjoy your outdoor brunch without worries.

- Statement Sunglasses: Don a pair of oversized sunglasses to shield your eyes from the sun while adding an element of mystery to your look.

- Footwear: Complete your look with comfortable sandals or stylish espadrilles to keep your feet comfortable while walking through the picturesque brunch venues.
Sunday- Retail Therapy and Evening Glam

Sunday in Dubai is synonymous with retail therapy. From luxury malls to quirky local markets, the shopping scene is as diverse as the fashion choices in the city. After a day of hunting for the latest fashion finds, Dubai's fashionistas gear up for a glamorous evening out on the town.
Button: Find your Favourite outfit today for the weekend! https://neon-star.com/collections/neon-beach

Fashion Tips:
- Tailored Jumpsuit: Opt for a tailored jumpsuit that seamlessly combines comfort and style. It's the perfect choice as you explore the city's shopping havens. Or choose a cute playsuit to keep cool and chic!

- Statement Jewelry: Elevate your outfit with chunky bracelets, oversized earrings, or layered necklaces that reflect your personal style and add a touch of glamour.

- Chic Clutch: A stylish clutch not only adds an element of elegance but also holds your essentials as you paint the town red.

- Heeled Sandals: Slip into heeled sandals that are not only comfortable for walking but also add a touch of sophistication to your ensemble.


Dubai's hot weekends are an embodiment of glamour and style, where fashion enthusiasts showcase their sartorial prowess amidst a backdrop of luxury and scenic beauty.
From chic brunches to retail therapy sprees and beachside bliss, Dubai offers a diverse array of fashion opportunities for those seeking to make a statement with their dress and beachwear choices.
So, whether you're strolling through the bustling souks or enjoying the serenity of the coastline, remember to let your fashion sense shine as bright as Dubai's sun-drenched skyline.
Collection 2019
Sale 70% Off
Third slide