11 Ways to Wear a Jumpsuit
Posted by NEON SHOPS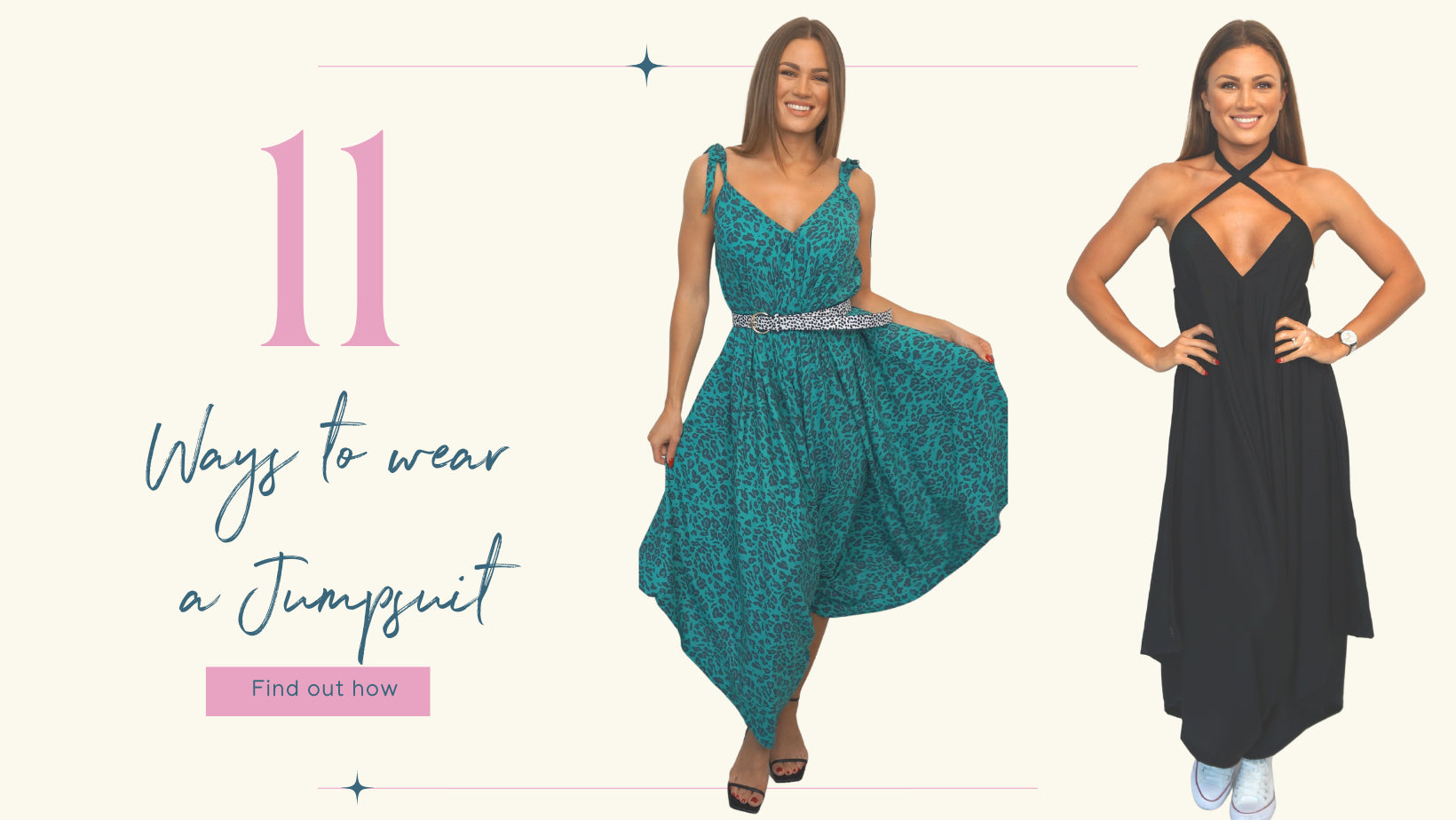 Here at Neon Star, we absolutely love Jumpsuits! They are so versatile and an absolute must in any woman's wardrobe. They are the perfect outfit whether dressed down with some sandals or trainers, or equally gorgeous when dressed up with some wedges and a beautiful handbag.
Did you know that our Harem Jumpsuit comes in 8 different colours of Chiffon material also, which is absolutely ideal for using as a beach cover up! Have a look at our best selling Harem Jumpsuit in Sky Blue made of sheet Chiffon. Meanwhile our regular Harem jumpsuits are made from a soft cotton rayon fabric, which is just great for the hot Dubai Summers.
We have rounded up 11 ways how you can style our much-loved Harem Jumpsuit, to keep you looking and feeling absolutely gorgeous!  And the best news is that 1 size fits all!
1.Add a Belt
And show off your waistline. If it is a simple print, then you can always have a bolder colour belt to attract focus around this area. If it's a busy print like our celebrated Jade Jungle, then we suggest going with a more neutral belt like black or tan.
2. Throw on a Jean Jacket
This is a perfect option to do when you want to wear your jumpsuit all year around. It's stylish, comfortable and keeps you warm too in those cold malls of the UAE.
3.Or a leather jacket!
If you are travelling to cooler climates, the harem jumpsuit is still a superb option without getting cold, as it looks amazing with a leather jacket.
4.Wear with some Wedges or Stilettos
Glam up your jumpsuit instantly by putting on some cute and comfy wedges. It's the perfect outfit to take you from Beach to Brunch, all with a simple sw
itch out of shoes.
5. Make it Plunging
Did you know that our Harem Jumpsuits are one size fits all?  You can tie them in many ways to make it look like a new outfit each time. All you need to do is, untie the straps, join 2 opposite side together, pull up tightly and tie behind your neck. The 2 back straps now just need to be wrapped under your bust in order to make the jumpsuit look a bit more flirty.
6. Front Cross the Straps
Since the harem jumpsuit can be tied in various ways, you can even cross the straps to make the neckline in a cross shape. This makes the outfit automatically a bit more daring and different. It is a great way to show off your chest area if its one of your favourite assets!
7. Cross Back
We just spoke about crossing the ties at the front, but did you know you can also cross it at the back! This makes a flirty plunge at the front yet more secure at the back. Take the 2 front straps and join them with the back 2 straps in a cross shape at the back.
It might be easier to tis this before putting it on and then pull the jumpsuit up.  A cool and casual look for the school run, paired with some white trainers.
8. Use a T shirt
 Pop on your favourite white tee (everyone has a favourite!) and then put the harem jumpsuit over it. This instantly makes the outfit a bit more modest yet funky at the same time. Perfect outfit now for airport travels or whenever you want to hide your arms.
9.Do it up it Strapless
Simply undo the ties, cross it over in front of your chest and tie tight at the back. Voila! You have a strapless jumpsuit. Say goodbye to odd tan lines, and hello to a new outfit which looks completely different. Great on a night out with friends, or on a beach visit with family!
10.Halter Neck
Another way to wear the Harem Jumpsuit. Simply tie one pair of straps around your neck and then wrap the other set of straps under your bust. Effortless Style in seconds!     
 11. Always add a Statement Bag
Whether it is a fun cross body bag or a gorgeous straw beach bag, its one of those outfits that looks perfect for any occasion. And if you don't have time to get home to change before your next outing, just simply change the way you tie it, add a different bag and its instantly a new outfit.
 And there you have it! 11 ways to wear a Jumpsuit! Easy right? Who would have thought one purchase would be so versatile! Which idea will you try next time you wear your Neon Star Harem Jumpsuit?
Don't forget to tag us in your photos on Instagram and Facebook so we can see how YOU wear your Harem Jumpsuit!
Collection 2019
Sale 70% Off
Third slide